Seasonal Diary
Dear Diary
(November 25, 2012)
---
Wet, Wet, Wet is the name of the game at Moscow Farm. We've had so much rain that only a small acreage of Winter corn has been drilled. This means that we will be drilling Spring corn in 2013. It is a long time since spring crops were grown at Moscow Farm.
We have had lots of lovely visitors to the farm cottage this year, and they have all made the best of their time here. Undaunted, they have walked in the rain, cycled in the rain, visited friends & relations in the rain, and kept up visits of places of interest in the rain.

However, farmlife has continued - lots of repairs to our lanes in the hope that humans and horses are safe to use them. All to no avail in some places - the track up to Burrough Hill through the Rough Meadow has been completely ruined and made unsafe by 'hobby' 4-wheel drivers and mudbikers.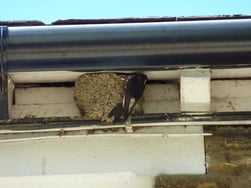 We must have had some sunshine as the lovely housemartin is seen here with some blue sky.