Seasonal Diary
sunshine and snowdrops
(February 10, 2014)
---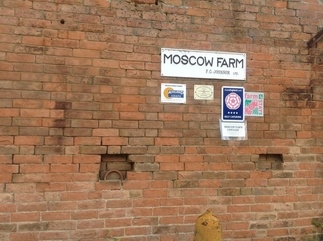 I refuse to mention the word rain....... oh dear.
Lots of winter repairs have been done, especially to some of the old buildings and yards near to the farmhouse. These old brick buildings were originally cowsheds and stables dating back to the early 1800's. There is evidence in the foundations of earlier stone outhouses. It may be that the stone was robbed from Burrough Hill in the late 1700's.
Some very happy ducks are using the buildings and yards. The main problem is protecting them from foxes. Look out for Hillfort Originals....... farmed ducks and geese.
We have again been the subject of mass destruction of our once beautiful Green Lanes by off-road motorbikes and 4 x 4 's. They seem to have no conscience at all, and have taken it upon themselves to completely destroy any existing track on our field up to Burrough Hill.
We are looking forward to being able to get our own vehicles back onto our land, when the weather dries up again, which it surely must do?
We have had lots of lovely visitors at the Farm Holiday Cottage. I would like to thank them all here, for looking after the cottage so well. We welcome dogs, and the owners seem to be so grateful for this, that everything is left spic and span when they leave. The odd chewed up mat or broken vase in the utility room is always replaced by the time I go down to clean etc!
The sun is still shining - a new record of 4 hours on a Leicestershire Monday Morning in 2014.