Seasonal Diary
The Garner is full
(November 10, 2014)
---
This is what 1000 tons of wheat looks like. Such better, plumper grain than last year.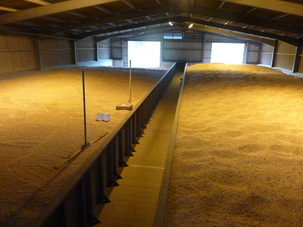 Most of the field gates are now closed, with the new crops growing well. Time to chop wood for fires, mend a leaky roof, mend a storage heater, test all the appliances, and pressure wash the north facing side of the cottage. Leicestershire may not be a tourist hotspot but it seems to be a meeting place for many families & friends, a quiet haven for dog walkers, and a restful place for others.
A friend has started a Blog for us, but I must admit that I am working up the courage to get to grips with it at the moment. I have great plans for 2015!
Since the wet weather has returned, a group of 4WD off-roaders have been busy ruining our neighbours track up to Burrough Hill. It is part of the ancienct Salt Road, and is now virtually impassable by walkers & horseriders. When they get stuck in their own mud, they trespass onto the field. Night-time activitiy probably relieves them of the looks and actions of people enjoying their walk on and around Burrough Hill.
Well that is enough moaning.............. we live in such a beautiful part of Leicestershire that there are many consolations.